Cancer incidence in Scotland
Cancer incidence and prevalence in Scotland to December 2018
A National Statistics publication for Scotland
---
About this release
This release by Public Health Scotland (PHS) provides an annual update of cancer incidence statistics in Scotland from 1994 to 2018. More than 50 cancer types are included.
Main points
The overall number of cancers increased from 30,600 in 2009 to 34,000 in 2018. The increase in numbers reflects a population which is growing and ageing. In contrast, the risk of developing cancer fell by 3.5% in the same time period.
There were more cancers in females than males (around 17,200 vs 16,700) in 2018 but the risk of cancer is higher in males than females. The higher number in females is because females live longer than males and the types of cancer which males and females get differ.
Three out of four cancers were diagnosed in those aged 60 and above.
Lung cancer is the most common cancer (more than 5,300 registrations overall), although breast (around 5,100) and prostate (around 4,200) cancers are the most common in females and males, respectively. Bowel (colorectal) cancer is the fourth most common cancer (around 4,100).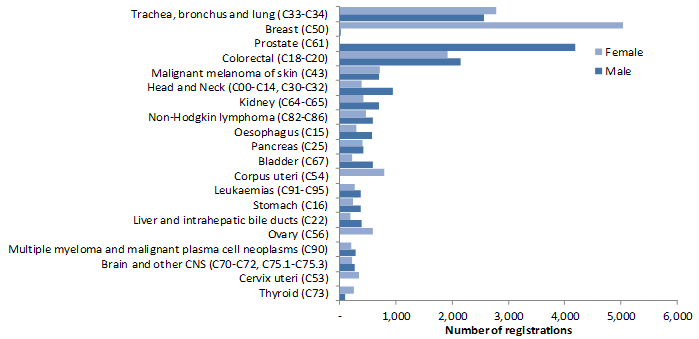 Lung cancer is three times more likely in the most deprived areas compared with the least deprived areas in Scotland. Colorectal and cervical cancers are also more likely in the more deprived areas. In contrast, breast and prostate cancers are more common in the less deprived areas.
The earlier a patient is diagnosed with cancer, the more likely they are to have a good outcome. Four out of five breast cancers (79%) were diagnosed at an early stage (I or II). In contrast, almost half of lung cancers (46%) and a fifth of colorectal cancers (21%) were diagnosed at a late stage (Stage IV). The quality of information on cancer stage in Scotland has improved over time with fewer records having missing data.
In females in the decade to 2018, there were significant increases in rates of thyroid cancer (up 60%), liver (up 54%) and uterus (up 19%), while there were significant falls in the rates of cancers of stomach (down 29%), and the ovary (down 15%). Rates for carcinoma in situ of cervix uteri (abnormalities of the cervix that sometimes lead to cancer) also fell by 26%, leukaemia by 23% and non-Hodgkin lymphoma by 12%.
For males in the decade to 2018, there were significant increases in rates of thyroid cancer (up 56%), liver (up 37%), kidney (up 26%). Malignant melanomas also increased by 15%. There were significant falls in the rates of stomach cancer (39%) and leukaemia (26%).
Lung cancer rates fell by 10% in the decade to 2018, due to a fall of 19% in men but almost no change in women; this is due to differing smoking patterns in previous decades. Prostate cancer increased by 7% while there was little change in breast cancer in women. Colorectal cancer rates fell 18% over the same period.​
Background
The Scottish Cancer Registry (external website) has been collecting information on cancer since 1958. Data collected by the Registry are published by PHS and are used for a wide variety of purposes. Cancer registrations are believed to be essentially complete for the year 2018, but it is important to note that the cancer registration database is dynamic. Where figures are included for the percentage change, these changes are statistically significant. Note that the numbers for all cancers by convention exclude non-melanoma skin cancers because of the difficulty in capturing and recording these tumours, which are largely non-fatal and may be treated solely within primary care. We calculate 10 year % change mid-year 2008 to mid-year 2018 but include 10 rather than 11 years when referring to individual years.
About 40% of cancers are potentially preventable through behavioural and lifestyle changes. Smoking, obesity, alcohol and diet are among the largest modifiable risk factors for cancer in Scotland.
Further information
Data from this publication are available from the data files section of this page.
The next release of this publication will be April 2021.
General enquiries
If you have an enquiry relating to this publication, please email phs.cancerstats@phs.scot.